Emergency Possum Removal Service Stoneville
Possum Proof your Roof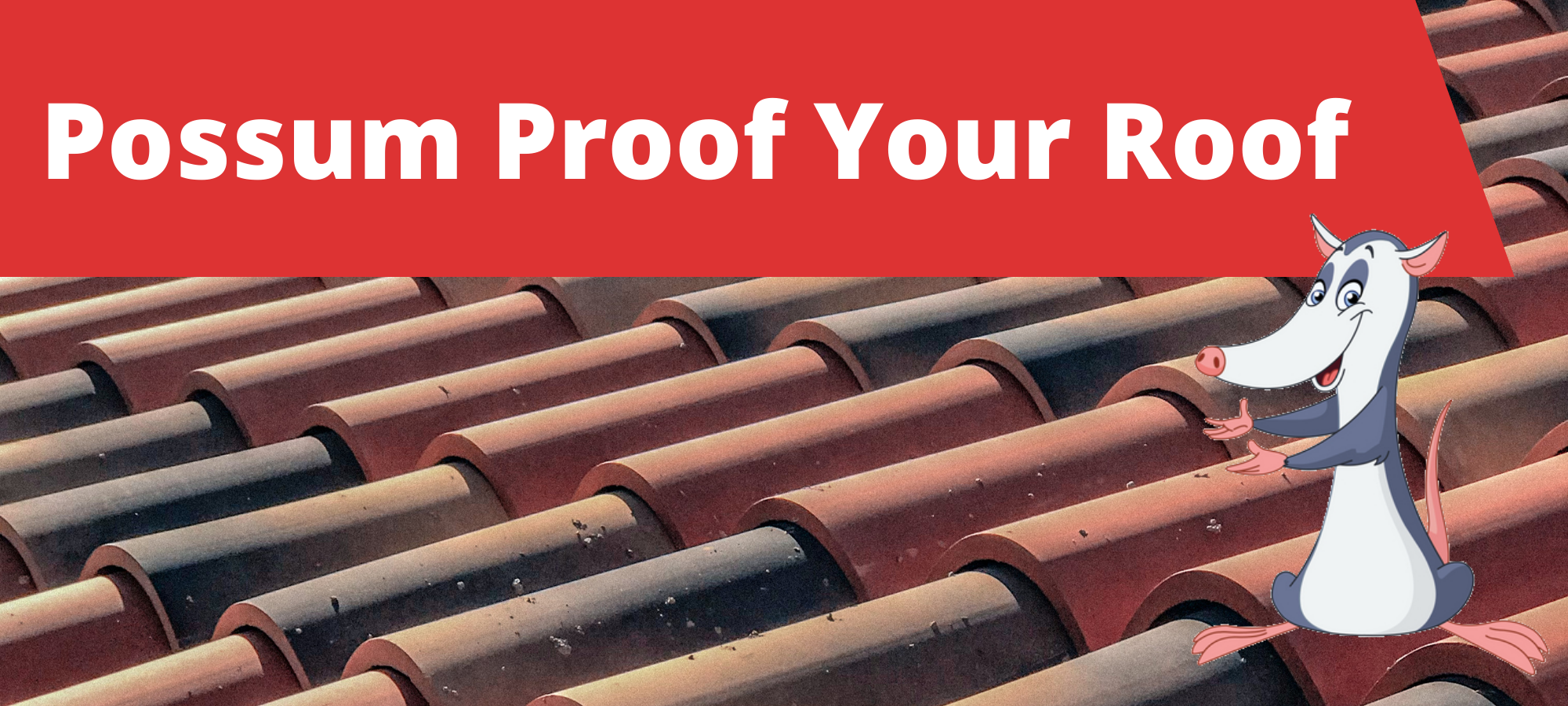 Possums are Protected so We Safely Capture and Release and Can Possum Proof Your Roof
We are licensed Possum Removal experts so we can safely and humanely capture your problem possums and they will be released into bushland away from your home.
We will also advise on how to prevent possums from returning to your roof by possum proofing access points.
Why is it necessary to remove possums?
Excellent climbers:Possums have excellent climbing capabilities, making the pest animal easily accessing your roof and damaging roof shingles, tiles, and gutters.
They can pee up to 300ml!:Possums leave large amounts of waste being able to pee up to 300ml in one go! The droppings of possums contain various pathogens that are smelly. This can compromise the health of you family.
Holes in walls and floors:Possum can mess up the interior of your property once accessed. They usually make holes in walls and floors, consuming the pet food, leaving food craps throughout the property.
Wire & Plumbing damage:Possums crew on plumbing, insulation, air ducts, and more damaging your property beyond your expectations. If they have damaged you insulation then see our insulation removal and insulation replacement services.
They will move in and stay:It is important to note that possums will live their entire live span in one habitat/home so they will not leave on their own.
We do not poison or kill your possum. We move them to a better more suitable home and release them. And no, it is not your neighbors.
Possums are more prevalent in the rural or fringe suburban areas of Perth that are surrounded by, or close to bushland. This is for the obvious reasons in that they have more vegetation to live in.
They are a rapidly decreasing species in Perth and Western Australia as the human population grows and Perth's slash and burn and develop mentality continues. By removing old trees that have hollows in them we are destroying where they can shelter, sleep and reproduce. So the Perth roof is all they have left in some cases.
How to confirm possum infestation at your property
As possums are nocturnal animals and stay away from the human eyesight, you may not always be able to confirm the infestation by visually seeing them.
You can confirm the presence of the pest with the following signs:
Various exterior damage to the property, including broken gutter, damaged siding, torn up shingles, ripped soffit, and more.
Spoiled food products on the floor and disappearing pet food. Possum have a special liking to cat food, and you can confirm the presence of the pest with the frequent disappearance of cat food.
Do you hear loud scratching noises often and see scratches on walls and floors?
Possums also make a wide range of noises that include hissing and shrieking. The possum mothers often making clicking and lip-smaking sounds to signal their babies.
You may also experience some distinct and unpleasant odor if possums live in your roof.

As stated earlier, you can't trap or catch possums yourself as they need to be removed by technicians who are authorized and have the expertise to remove these pests. You can contact us anytime for a licensed possum trapping services, including possum removal Stoneville.

Do you need emergency possum removal in Stoneville because a possum is making extensive damage to your property? Contact us immediately; our possum removal technicians are happy to provide same day emergency possum removals Stoneville

The possum removal process

Step One pest control inspection:We begin the possum removal service with a detailed inspection for the pest and associated damage at your property. Our possum inspectors will examine every inch of your property, identify the possum species, confirm the behavioral patterns of the pest, and evaluate the extent of the damage.

Step Two possum removal plan: Based on the inspection results, we will create a possum removal plan. It will include the mode or removal, the timeline of the removal, the location where the pest will be freed any ant special instructions to the home owners.

Step Three the removal: Our technicians will use a special type of possum traps and nest boxes to catch the pest and remove it from your property. We will release the animal far from your property as per the Western Australian possum removal guidelines.

Additionally we will secure all the main access points to your property by closely monitoring the path of the possum. Based on the infestation issues, we may also suggest some repair and architectural altercation to make your Stoneville property free of future possum infestation.

Step Four on going possum control prevention: In addition to possum removal in Stoneville, we will also provide specific tips and strategies based on our inspection and findings

You can make your Stoneville property less secure for secure possums with the following steps and strategies:

Store the food products, especially pet foods, from possums.
Make your property clutter-free with the regular removal of debris and waste. This minimises the hiding places for possums in your home
Trim the shrubs and threes that are located close to the structure to prevent possums access to your property and roof.
Make regular inspections in and around the property to identify any damage that can give the pest access to your property.

WHAT TYPE OF POSSUM DO YOU HAVE

BRUSHTAIL POSSUM

Can be described as:

Similar size as a family cat
Can grow up to 5kgs in weight
Grey coloured fur
Large pointed ears
Brushy tail with a white tip
Tends to live in roof spaces, chimneys and even garden sheds

RINGTAIL POSSUM

Ring-Tailed Possums are identified by:

Being smaller sized than Brush Tailed Possums with a maximum weight of approximately 1 kg
Dark brown fur on top of their body with a cream or grey underside and white patches behind their ears and eyes
Short rounded ears
Long tapered tail with a noticeable white tip
Tend to nest in dense foliage a few metres above ground
Have declined in numbers and are now mainly seen in the southwest of WA between Bunbury and Albany

Need a Professional Possum Wrangler. Call the Team at Megatec Pest Control Services.

Other great local Stoneville companies that we recommend